Home
Celebrating City's Pioneers
Published Thursday, 1st August 2019
City of Wanneroo residents who have dedicated more than 50 years of their lives to the Wanneroo community have been recognised at a special event.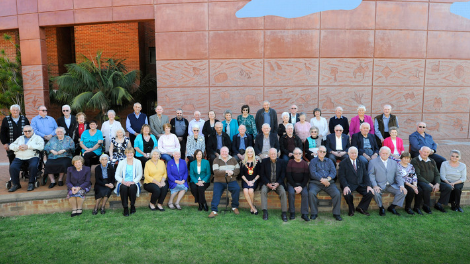 Mayor Tracey Roberts welcomed 54 Pioneers and their guests to the City's annual Pioneers lunch which was held at the Wanneroo Civic Centre this afternoon.
"This event is an opportunity to honour and celebrate our very special and deeply cherished Pioneers," Mayor Roberts said.
"Our Pioneers are truly inspirational people – adventurous, hardworking and passionate, with a determination to build a prosperous community for themselves, their families and for future generations.
"Our early pioneering families worked incredibly hard, often during very difficult times, but they remained strong and resilient…and we have them to thank for laying the foundations for what has become one of Australia's fastest and largest growing cities.
"The Wanneroo of old was a time when the population was small in number but everyone looked out for one another with a caring and nurturing spirit.
"As Mayor, I am proud to see those strong community values continue to be reflected through our vibrant and multicultural City.
Several Pioneers played an integral role in the day's events including Lucy D'Olimpio who provided the pre-lunch entertainment with classic piano tunes, Nic Trandos who delivered a heart-warming speech and Jan Duffy who shared the story of the Duffy serum and how the Duffy blood group was discovered in 1950.
More articles in the news archive.