Home
New tanker for Quinns Rocks Bush Fire Brigade
Published Friday, 2nd August 2019
A new tanker has been added to the fleet at Quinns Rocks Bush Fire Brigade in Clarkson.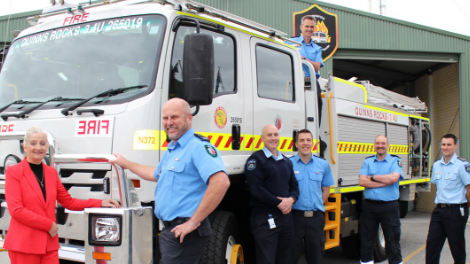 The 3.4 Urban Tanker replaces a vehicle that the brigade has been using for 16 years.
The Department of Fire and Emergency Services invited the City of Wanneroo's Mayor Tracey Roberts to formally receive the new addition to the fleet.
Mayor Roberts said the tanker provides the latest safety systems and is built on an Isuzu base.
"This tanker offers crew protection systems, including drop down fire resistant curtains, in-cab air units, personal fire blankets and a deluge system," she said.
"The tanker was funded by the Emergency Services Levy that our ratepayers contribute to.
"The brigade has about 45 dedicated volunteer members who put their lives at risk to protect our large and growing community.
"The City of Wanneroo covers 684kms2 and it is imperative that all our brigades in Yanchep, Two Rocks, Wanneroo and Quinns Rocks, have access to essential equipment needed to keep the community and themselves safe on the fire ground.
"Our community is deeply grateful for the valuable work volunteers do to keep us safe and we are thankful for the Department of Fire and Emergency Services for its support."
For information about becoming a volunteer fire fighter head to the brigade's website: www.quinnsrocksbfb.org.au.
More articles in the news archive.