Home
Mayor awarded lifetime WALGA honour
Published Friday, 9th August 2019
City of Wanneroo Mayor Tracey Roberts has been recognised for her commitment to Local Government with a Life Membership from the Western Australian Local Government Association (WALGA).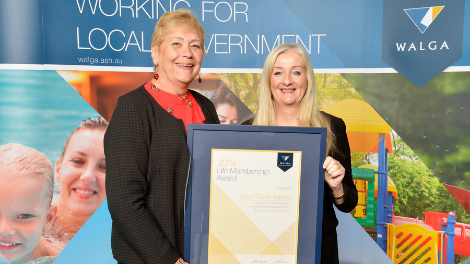 WALGA chief executive Nick Sloan presented Mayor Roberts with the honour at WALGA's Annual General Meeting.
"This award recognises Tracey's ongoing commitment, passion and enthusiasm for serving the community," Mr Sloan said.
"In addition to being a passionate and active leader for the City of Wanneroo community, Tracey is also a strong advocate for the people of Australia, having served as Deputy President of WALGA since 2015 and Vice President of ALGA since 2018," he said.
WALGA President Cr Lynne Craigie congratulated Mayor Roberts on her membership saying she was highly regarded at all levels of government for excellent negotiation and lobbying abilities.
"Mayor Roberts' passion and drive for local communities has delivered great benefits, both to our sector and to the community of Wanneroo, and she is highly deserving of life membership to WALGA."
City of Wanneroo Deputy Mayor Nat Sangalli agreed the award was well deserved.
"Mayor Roberts has dedicated 16 years of her life to serving the community of Wanneroo," Cr Sangalli said.
"This includes eight years as an active councillor and more recently, eight years as a full-time Mayor," she said.
"Mayor Roberts passionately advocates for community safety, local employment and businesses, and high quality facilities and services for the City of Wanneroo's rapidly growing population.
"As a Council and as a community, we are extremely fortunate to have such a dedicated Mayor at the helm."
More articles in the news archive.