Home
Coastal management funding success for the City
Published Thursday, 8th August 2019
The City of Wanneroo has been successful in securing State Government funding grants for three coastal projects, as announced by the Minister for Transport.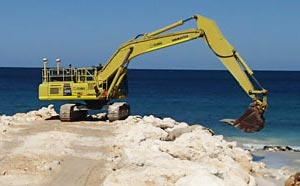 A total of $410,000 has been secured through the 2019/2020 Coastal Adaptation and Protection (CAP) Grants program which provides funding for projects to identify and adapt to coastal hazards.
Mayor Tracey Roberts said the funding would be used to survey the City's 32 km coastline with a focus on vulnerable areas ($21,600), beach renourishment at Quinns Rocks and Yanchep ($88,785), and the upgrade and extension of a groyne at Quinns Beach ($300,000).
"We welcome this announcement and sincerely thank the State Government for their funding contributions to support these critical projects for the City of Wanneroo," Mayor Roberts said.
"These grants represent almost 40 per cent of the $1,056,540 CAP Grant funding available for the whole of Western Australia and demonstrate the State Government's commitment to working with the City to protect our precious coastline," she said.
"The City has also committed $2.4 million of its 2019/20 capital works budget to coastal management works across its most vulnerable beaches."
Since 2000, the City has spent close to $13 million from its own resources to manage coastal erosion issues and has received State Government funding of more than $2 million.
"The City of Wanneroo takes the issue of coastal management and protection very seriously and we will continue to invest in projects to protect our beautiful coastline for the benefit of future generations," Mayor Roberts said.
"This is another clear example of how local councils have a much greater role to play than simply roads, rates and rubbish," she said.
More articles in the news archive.