Home
Dolphins set to make a splash
Published Tuesday, 13th August 2019
More than 100 swimmers will take part in the Dolphin Olympics, the highly anticipated event for participants of Wanneroo Aquamotion's Dolphins Program.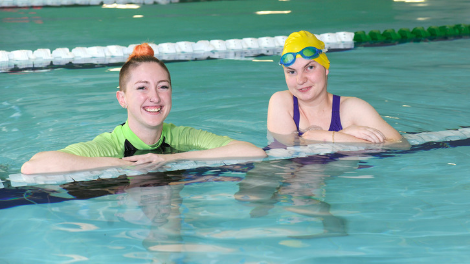 The highly sought after program caters for people with a wide range of special needs, with 180 students currently enrolled, aged from 2 – 37.
On 18 August Dolphin participants become competitors, with races geared towards each swimmer's ability - from 50metre races to 5metre pool-noodle races.
Three swimmers are in each race, ensuring everyone gets the chance to stand on the podium while being presented with their medal!
Mayor Tracey Roberts said the Dolphin Olympics began back in the year 2000 to coincide with the Sydney Olympic Games.
"This event is an annual highlight that so many look forward to," Mayor Roberts said. "I love seeing the enjoyment on the faces of our participants.
"Last year the Dolphin Olympics were not able to take place due to the pools being retiled, so we are really looking forward to 18 August and we can see the swimmers back in action."
Competitor Beth Langford can't wait for this year's Dolphin Olympics.
As a four-year-old with Cerebral Palsy, she began swimming lessons with Wanneroo Aquamotion's Dolphins Program, which continues to be an integral part of her week 14 years on.
Beth's mum Wendy Langford said the weekly sessions helped her daughter in many different ways.
"Initially we just wanted something so she could learn to swim," Mrs Langford said. "She loved swimming straight away and as she got older and tried different things, this was the only after-school activity she really enjoyed."
Mrs Langford said as well as being a great physical therapy by strengthening her muscles and freeing up movement in her body, there was a great social aspect as well.
"She's been able to make friends through swimming, and now Beth's in a class with other adults it's expanding her social network by meeting new people.
"The staff have always been wonderful as well, she's had such great teachers."
Beth has competed in all the Dolphin Olympics except for one, when she had surgery.
"She proudly keeps all of her medals and really looks forward to it each year," Mrs Langford said.
"She was so little when she started in the Dolphin Olympics, and when she was in mainstream school, it was great that she could take in her medals and show the other kids."
More articles in the news archive.