Home
Scoring goals at WDNA clubrooms
Published Monday, 19th August 2019
The first stage of construction of the Wanneroo Districts Netball Association's new clubrooms is complete ahead of schedule.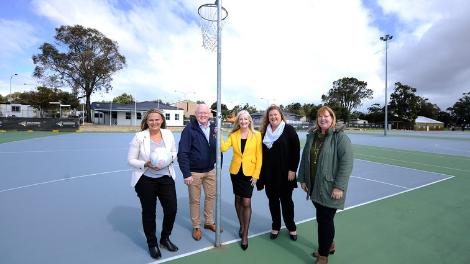 Mayor Tracey Roberts said she was pleased that WDNA were able to move into their new offices at Kingsway Regional Sporting Complex two months earlier than originally expected.
"Construction has been smooth and has been progressing well," Mayor Roberts said.
"The staff have been able to move to their new administration offices during the winter netball season, which will benefit the Association's 5500 members."
Stage 1 works included a kitchenette, first-aid room, umpire and match official rooms, toilets, office administration and meeting rooms are all complete.
Stage 2 construction works are now underway, comprising change rooms, a commercial kitchen, a multi-purpose hall, equipment store rooms and toilets.
The $3.1 million project is scheduled for completion in January 2020.
The City thanks the State Government for its funding contribution of $500,000 via the Community Sporting and Recreation Facilities Fund.
WDNA President Yvette Thomson praised Geared Construction who has made what could have been a stressful time during the renovation much more bearable for staff.
"WDNA would like to thank the City of Wanneroo for providing the bulk of the funding, along with Sabine Winton (MLA for Wanneroo).
"Our office staff have just moved into their new offices and are rapt to have such modern facilities – the new toilets are in use and have been well received by the members."
More articles in the news archive.