Home
Local students take the lead
Published Wednesday, 21st August 2019
Many young people across the City of Wanneroo are taking the lead in a range of community action projects designed to develop leadership skills.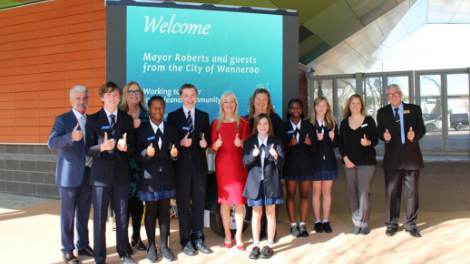 Aged 10 to 18, over 60 primary and secondary students from nine schools have been working collaboratively with City of Wanneroo Elected Members and staff to deliver projects that they relate to on a personal level.
After attending the City of Wanneroo's Youth Leadership Forums in April this year, each group of students was tasked with developing a project that engaged with their local community and tackled issues in their neighbourhood.
For example, a group of students from Butler College are spearheading a project titled 'Litter Quitter', which aims to raise awareness about polluting the natural environment.
Through educating their peers on the damaging effects of litter pollution, the students are hoping to reduce rubbish on school grounds and improve attitudes towards littering.
Pupils from Yanchep Secondary College are emphasising the importance of eating breakfast every morning with a project called 'Feed a Friend'.
The students are looking to host a 'breakfast club' which will help provide a morning meal to fellow students who often struggle with access to food before school.
Meanwhile, Ashdale Secondary College students in years eight and nine are displaying initiative and leadership qualities by inviting local residents to take part in a clean-up event in the Koondoola Bushland, an area home to many significant native plant and animal species.
City of Wanneroo Mayor Tracey Roberts said it was vital for local government to play a role in empowering youth and teaching leadership skills.
"With 37 per cent of the City of Wanneroo's population aged under 25, it is essential we recognise their strengths and provide opportunities for engagement," Mayor Roberts said.
"It is important for local government to promote and cultivate leadership skills in young people at a grassroots level, as well as encourage engagement with their local community.
"I'm really looking forward to seeing the outcomes of the various community action projects that are in the works."
Other schools taking part in the Youth Leadership Forum include Joseph Banks Secondary College, Hudson Primary School, Irene McCormack Catholic College, Quinns Beach Primary School, Roseworth Primary School and Hocking Primary School.
Each school group will present the outcomes of their project to the Mayor, Elected Members and key community stakeholders at a Youth Leadership Showcase next month.
More articles in the news archive.