Home
Local volunteer firefighter honoured
Published Thursday, 29th August 2019
A valued member of the Quinns Rocks Bush Fire Brigade has been recognised for his exceptional efforts during the 2016 Waroona/Yarloop bushfire.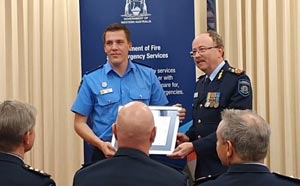 Dario Nikolic received a Certificate of Distinction from the Department of Fire and Emergency Services at a Meritorious Service Awards ceremony held at the City of Wanneroo Civic Centre.
Second Lieutenant Nikolic was one of three recipients of the award in the North Coastal Metropolitan Region.
The recipients were recognised for:
Exceptional efforts during the Waroona Fire as Sector Commanders
Completing tasks under trying conditions (reports of extreme fire danger and 50m flame heights)
Maintaining control and leadership of the sector and crews.
Dario, who joined the Quinns Rocks Bush Fire Brigade in 2014 at the age of 21, said he was humbled to be recognised by his firefighting peers who nominated him.
"It feels pretty good to be acknowledged for volunteer work amongst the community and it comes with a sense of pride that the work we did during that time was recognised with a Certificate of Distinction," he said.
"It was a bit out of the norm and a bit uncomfortable (accepting the award) but it is good to sit back and be recognised by others who are out on the fire ground with me because they recognise and appreciate the work that I do.
"I've received a lot of gratitude and acknowledgement".
Dario said being part of the brigade has seen him travel throughout WA and interstate and he urged community members to consider signing up as a volunteer.
Mayor Tracey Roberts said the work of the volunteer firefighters, including Dario, was extremely important and thanked the firefighters for their dedication.
"We are incredibly proud of Dario's achievement and being a recipient of the prestigious Certificate of Distinction.
"This award is well deserved and we consider ourselves fortunate to have such dedication within our volunteer bush fire brigades.
"Our brigades work tirelessly to ensure our community feels a sense of safety and they do this by putting others first.
"I applaud Dario and sincerely acknowledge and thank all of our City's volunteer brigades for their time and contributions."
More articles in the news archive.