Home
Wanneroo Showgrounds upgrade offers timely benefit
Published Friday, 30th August 2019
A new public amenities building with time-locks has been completed at the Wanneroo Showgrounds under the State Government's Local Projects, Local Jobs funding program.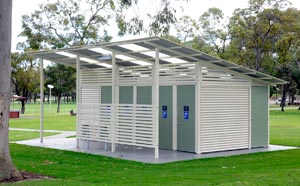 Mayor Tracey Roberts said the facility will be welcomed by the community and the many sporting and community groups who use the showgrounds.
"The showgrounds are an important community facility which has been home to the Wanneroo Agricultural Society for more than a century and is a much loved location in the heart of Wanneroo.
"The City has a long term association with the society at the showgrounds and the upgraded facilities will ensure modern amenities are available for everyone.
"There are many large community events held at the showgrounds including the annual Wanneroo Agricultural Show, the Vietnamese Tet New Year Festival as well as our very own series of City run events which attract thousands of participants.
The City thanks the State Government for honouring its funding commitment to deliver this upgrade.
Wanneroo MLA Sabine Winton said that as long term member of the Wanneroo Agriculture Society she was proud of the State Government's $220,000 investment into the upgrades.
"The Wanneroo showgrounds is the iconic heart of Wanneroo, and I am pleased that this important election commitment by me has been delivered."
More articles in the news archive.