Home
Food trucks deliver delicious cuisine across City
Published Thursday, 12th September 2019
It will be foodie heaven across the City of Wanneroo this spring and summer with the annual food truck season delivering a wide selection of tasty treats at more than ten locations.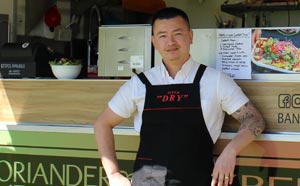 The City has been facilitating the popular food truck program since 2017 which gives residents and visitors the opportunity to gather together in parks and community spaces to enjoy a range of culinary delights.
Mayor Tracey Roberts said that the City has successfully established the program and coordination responsibilities are now with independent operators.
"The City of Wanneroo was very proud to create this community program which has brought people young and old together in some of our beautiful natural parks and open spaces.
"Now it is time for the City to provide opportunities to external coordinators to take the program to the next level."
Mayor Roberts said the City would continue supporting the Food Truck Program by making a range of trading locations available for coordinators to host events.
Coordinator Khoa Mai from FOOD HUB Central and creator of Wanneroo Street Food and Street Food Circus said there had been a lot of interest from food vendors this season with the number increasing from 20 to 50.
"Customers will be spoilt for choice with many food options including pizza, Indian, Chinese Korean, and a Brazilian barbeque," Mr Mai said.
Mr Mai, who also runs the authentic Vietnamese street food truck Banh Mizzle said he had seen food trucks grow in popularity over the years.
"People used to associate food trucks with unhealthy fast food; now vendors serve cheap gourmet meals that would not look out of place in an expensive restaurant."
A list of proposed locations for the 2019/20 food truck program and contact details for operators can be found at wanneroo.wa.gov.au/foodtrucks.
More articles in the news archive.