Home
Mayor welcomes Frank Cvitan as Deputy
Published Wednesday, 30th October 2019
The City of Wanneroo has a new Deputy Mayor, with central ward councillor Frank Cvitan voted in by fellow elected members at last night's Special Council Meeting.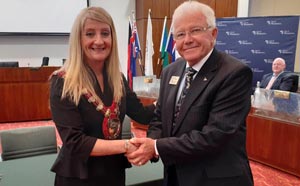 Cr Cvitan was first elected to Council in 1999, serving for 10 years, and again from 2011.
Mayor Tracey Roberts welcomed Cr Cvitan to the role, highlighting his experience, passion and understanding of local issues.
"Frank has dutifully served the community for 18 years as a ward councillor, showing dedication, understanding and an approachable nature," Mayor Roberts said.
"His experience and knowledge of our City is invaluable and I look forward to working closely with him as he takes on the important role of Deputy Mayor."
Cr Cvitan was elected for a two-year term, with the role re-elected every Ordinary Council Election cycle.
The Mayor also thanked Cr Natalie Sangalli for her dedication and commitment as Deputy Mayor during 2017 - 2019 and congratulates her on her re-election as a North Coast Councillor for a 4 year term.
More articles in the news archive.