Home
Neighbourhood park comes together at Hardcastle
Published Friday, 15th November 2019
The wait is almost over for Landsdale residents with development of Hardcastle Park now underway.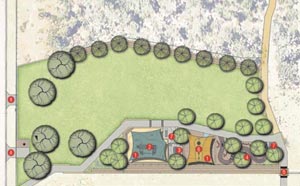 The City has carefully planned for the development of a portion of the reserve, ensuring a sizeable parcel of bushland is retained.
Once complete, the park will have a large irrigated turf area as well as a playground with rubber soft-fall, nature play elements, a variety of swings, shade sails, park benches and picnic table with shelter.
There will also be pathways, planted areas, plenty of trees, limestone walls and conservation fencing.
Mayor Tracey Roberts said the City had carried out extensive community consultation during the various stages of this project.
"I know that many residents of Landsdale are looking forward to being able to enjoy this neighbourhood park," Mayor Roberts said.
"This will be a fantastic space where locals can socialise, play and exercise close to home."
Construction of the $961,000 project (including environmental offset), began on Monday (11 November) and is expected to be completed by April 2020.
Mayor Tracey Roberts thanked Hon Stephen Dawson MLC, Minister for Environment and the Department of Water and Environmental Regulation for their final decision on the clearing permit that allowed construction to commence.
More articles in the news archive.