Home
Public Information Session on 27 November 2019 - Proposed duplication of Hartman Drive
Published Wednesday, 20th November 2019
A public information session on the proposed duplication of Hartman Drive between Hepburn Ave and Gnangara Rd.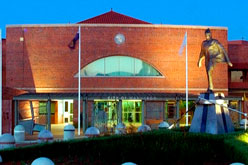 The City of Wanneroo is committed to undertaking the dualling of Hartman Drive between Hepburn Avenue and Gnangara Road. The City has completed design work and intends to progress to tender/construction of the project. This will result in minor changes to road level and alignment compared to that currently in existence.
Accordingly, and as per the requirements of Local Government Act of 1995, Section 3.51, the City hereby gives notice that it intends to realign and alter levels to Hartman Drive from Hepburn Avenue to Gnangara Road, as part of road dualling works.
Public information session
When:
Wednesday 27 November // 6:45pm to 8:45pm
Where:
Kingsway Olympic Soccer Club, Kingsway Regional Sport Complex, 100 Kingsway, Madeley
Should you require further details and information please contact the City's Project Manager, Samuel Bryce on 9405 5532 in the first instance.

More articles in the news archive.