COVID-19 recovery information and updates
The City of Wanneroo is reopening a number of community services and facilities in line with Phase 4 of the State Government's COVID-19 Roadmap to Recovery. Click here to find out more
Home
Santa's helpers found in Mindarie
Published Thursday, 12th December 2019
Last week, City of Wanneroo Mayor Tracey Roberts stopped by at a local toy workshop run by Selwyn and Sue Anderson thanking the couple for their donation of handcrafted wooden toys.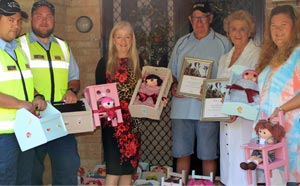 "I am astounded by the generosity of Selwyn and Sue, who make toys year-round to bring Christmas cheer to local families," Mayor Roberts.
"Their beautiful donations of dolls cots, dolls highchairs, stools, toolboxes and garages will be treasured by the children who receive them and I am so grateful and proud to have people like Selwyn and Sue in our community."
The couple have been making toys for 21 years and have shared the gift of giving with more than 5000 children in that time. Mr Anderson makes the toys from donated wood offcuts and wooden furniture, and decorates them using paint sourced from the Tamala Park Recycling Centre. Mrs Anderson makes cot mattresses, crochets blankets, and sews dolls clothes.
"We used to make up to 300 toys per year but now we are older that number has dropped to 200," Mr Anderson said.
"As well as donating to the Mayor's Christmas Appeal, we distribute toys to children who are staying at women's refuges. It is very rewarding and keeps us young at heart.
"We believe all children should be given a chance to have toys, especially at Christmas time."
Donations for the 2019 Mayor's Christmas Appeal have closed but companies, schools and community groups interested in hosting a collection point next year can call the City on 9405 5000.
More articles in the news archive.