COVID-19 recovery information and updates
The City of Wanneroo is reopening a number of community services and facilities in line with Phase 3 of the State Government's COVID-19 Roadmap to Recovery. Click here to find out more
Home
Get gnarly new skills at the skate park
Published Tuesday, 24th December 2019
Are you a young skateboard, scooter or BMX rider looking to learn new tricks and gain confidence? If so, you won't want to miss the City of Wanneroo's Youth Skate Park Series 2020.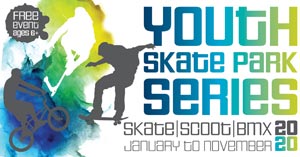 The City has teamed up with skateboard, scooter and BMX specialists Freestyle Now to run the series which will feature six free coaching sessions and three competitions across the City's skate parks from January to November 2020.
The first event will be a large skate jam session during the Wanneroo Festival on 26 January which will cover all aspects of the three sports as well as skate park safety. The jam starts at 3.30pm at the Wanneroo Skate Park, adjacent to the Wanneroo Showgrounds.
Mayor Tracey Roberts said 2020 was the perfect year to run the series with two new skate parks in Landsdale and Yanchep due to be completed later in the year.
"Skateboard, scooter and BMX riding are popular activities among our young residents with many telling the City they would like to see more events and activities in their neighbourhoods," Mayor Roberts said.
"The workshops and competitions will be spread across the City throughout the year, giving lots of young people the opportunity to participate."
Freestyle Now founder Shaun Jarvis said the workshops and competitions will cater for all ages and skill levels.
"Skateboard, scooter and BMX riders can develop their skills during the fun, informative, and motivational workshops before competing in front of their friends and families," Mr Jarvis said.
"The competitions will be a chance for participants to develop an understanding of how judging works while learning skate park etiquette and how to take care of the facilities.
"Competitors will be judged on difficulty, diversity and consistency by three judges and will be encouraged to push their skills to win prizes."
For more information and to register for the free sessions visit wanneroo.wa.gov.au/cowyouth or like the event on Facebook - @CoWYouth
More articles in the news archive.