COVID-19 recovery information and updates
The City of Wanneroo is reopening a number of community services and facilities in line with Phase 3 of the State Government's COVID-19 Roadmap to Recovery. Click here to find out more
Home
Better safe than sorry
Published Tuesday, 24th December 2019
After bushfires have burned through an area there is still potential for things to go wrong, so please be extra careful and don't risk it!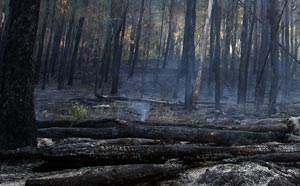 Instead of taking chances, stay off walking and bridle trails, and leave off-road driving or trail bike riding for another time.
Damaged trees can drop branches or fall over so it's best to avoid areas of bushland where there's unstable vegetation following a bushfire.
Structural defects including cracking, decay, loose branches or roots, overhanging or leaning trees are pointers to potential danger – so please take care and better still don't enter affected areas which might be unsafe.
Fires dramatically change the landscape and conditions. Keep an eye and ear out for warning signs. Better safe than sorry.
For more information on recovery after a bushfire, click below.
More articles in the news archive.