Home
Celebrate our diverse City at the Wanneroo Festival
Published Monday, 20th January 2020
Don't miss your opportunity to enjoy delicious food, entertainment, and fireworks at the Wanneroo Festival on Sunday 26 January.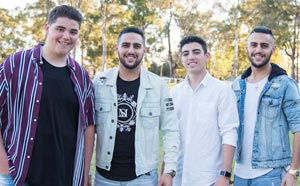 This free family event at the Wanneroo Showgrounds starts at 4pm and will celebrate the many cultures that make up the City of Wanneroo.
There will be a feast of food on offer, with trucks serving cuisine from around the world including Italy, Malaysia, Vietnam, Turkey, the United Kingdom and the Netherlands.
Enjoy roving cultural performers from Chinese lion dancers and Bollywood stilt walkers to African dancers and a Mariachi band.
Walk down the 'Global Laneway' and experience activities such as Japanese origami, Chinese calligraphy, Malaysian games, and snake charming before visiting the main stage to see performances from Aboriginal dance group Djurpin Djindas, The Italycious big band and more.
The event will be capped off with a free concert featuring local resident Jordan Anthony, finalist in The Voice 2019, and Australia's Got Talent local superstars the Subih Brothers. The evening will close at 8.30pm after a spectacular 20-minute fireworks display.
Mayor Tracey Roberts said the festival will follow the country's largest council led Australia Day Citizenship ceremony.
"More than 1,000 residents from 65 countries were invited to take the pledge to become a citizen on Australia Day. The City is proud of its diverse population with more than 40 per cent of residents born overseas," Mayor Roberts said.
"Our City would not be the vibrant and progressive place it is today without the rich diversity of its people, and the festival will be a wonderful way for everyone to experience and share each other's culture."
As a family friendly celebration, the Wanneroo Festival is a smoke and alcohol free event.
Parking is available at the Wanneroo Showgrounds with access off Ariti Avenue. ACROD parking is available off Noonan Drive. Overflow parking at the City of Wanneroo Civic Centre, 23 Dundebar Road, includes a free shuttle bus to transport attendees to the venue.
More articles in the news archive.