Home
Local talent recognised in art awards
Published Friday, 24th January 2020
Local artists are being invited to enter the City of Wanneroo's Community Art Awards and Exhibition 2020.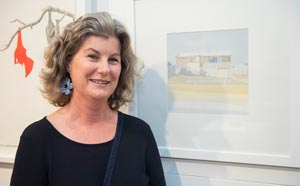 The annual event has been held since 2001 with the City inviting local artists to showcase their most creative work at the City of Wanneroo Art Gallery.
Artists will have the opportunity to sell their work during a public exhibition being held from May to July 2020. A panel of art industry professionals will judge this year's best entries, and artists will have the chance to win a prize from a pool of $18,700.
The 2020 artwork categories are:
Painting
Sculpture
Works on paper
Photo, film and digital media
Mayor Tracey Roberts said she was excited to see the addition this year of the new photo, film, and digital media artwork category as the mediums were popular with younger artists.
"By adding this category we hope to open up the competition to a wider audience, allowing more people to share their creativity and artwork," said Mayor Roberts.
"I am very much looking forward to seeing how local photographers and digital artists interpret the world and what they submit to the Art Awards."
Last year Mindarie artist Susan Hoy won the City's Open Award for her gouache work on paper 'Quinns Beach Cottage after Australia Day 2007'.
She has encouraged other local artists to participate saying it is an opportunity for them to have their work displayed in a professional gallery.
"It is a great way to see other artists' work and to meet and connect with the local creative community," said Ms Hoy.
City of Wanneroo resident artists can submit their work from 3 February with the competition open to all WA artists from 10 February. Entries close on 3 April however this date may be brought forward if the City receives more than 230 entries.
For more information contact the City's Cultural Exhibitions Curator on 9405 5903.
More articles in the news archive.