COVID-19 pandemic information and updates
The City of Wanneroo has launched a dedicated webpage where all the latest information about our facilities, services and events can be found as the COVID-19 situation unfolds. Click here to find out more
Home
City of Wanneroo Mayor announced as new WALGA president
Published Thursday, 5th March 2020
City of Wanneroo Mayor Tracey Roberts was named President of the WA Local Government Association (WALGA) at last night's WALGA State Council Meeting.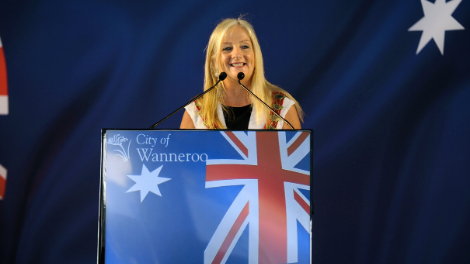 Mayor Roberts said she was very proud to be elected to Western Australia's peak local government industry body as President, while continuing as the City of Wanneroo's Mayor.
"I am committed to achieving the best outcomes for our City through governance, value and passion for community issues and this key role with WALGA is an opportunity to bring WA's local government interests to the fore with big picture thinking," she said.
City of Wanneroo Deputy Mayor Frank Cvitan applauded Mayor Roberts.
"On behalf of all City of Wanneroo elected members, I offer my warmest congratulations to Mayor Roberts on her appointment as WALGA President," he said.
"As leader of a growth Council like the City of Wanneroo, Mayor Roberts will be an invaluable asset in leading and advocating for the 138 local governments that are represented by WALGA."
Mayor Roberts succeeds Cr Lynne Craigie as WALGA President.
"I would like to commend Cr Craigie for her work as WALGA President these past five years," Mayor Roberts said. "Having worked alongside her since 2015, I can safely say she leaves some big shoes to fill."
Fast facts
In 2003, Mayor Roberts was first appointed to Wanneroo Council, and went on to be elected Mayor eight years later.
Mayor Roberts has formed a key part of WALGA's senior leadership team since 2015, when she was elected Deputy President. She has also served as Vice President of the Australian Local Government Association (ALGA) since 2018. She is the second woman to be elected WALGA President.
Mayor Roberts is a member of many external associations and committees, including serving as Deputy Chair of the National Growth Areas Alliance, which advocates for strong infrastructure and equitable access to jobs and services in municipalities on the fringe of Australia's metropolitan areas.
More articles in the news archive.