COVID-19 pandemic information and updates
The City of Wanneroo has launched a dedicated webpage where all the latest information about our facilities, services and events can be found as the COVID-19 situation unfolds. Click here to find out more
Home
Youth leaders shape City's future
Published Monday, 9th March 2020
Local youth will embark on a series of exciting projects related to community safety, advocacy, inclusion, health and the environment after attending the City of Wanneroo's School Leadership Program.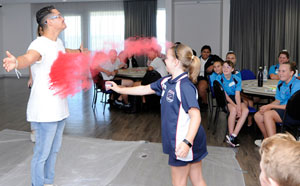 Last week, more than 100 students from 11 local schools attended City-led Leadership Forums designed to empower young people to recognise issues affecting their local community and develop viable solutions.
The forums included a range of workshops and real-life scenarios to develop problem solving and leadership capability. Students will put their additional skills to practical use over the coming months as part of community action projects to be launched in September.
Mayor Tracey Roberts said the City was committed to promoting and cultivating leadership skills in young people.
"Young people are our future and it is important that their ideas are heard to ensure the City continues to be a great place to live, work and visit," Mayor Roberts said.
"It was wonderful to see our young people demonstrate such community spirit, enthusiasm and quality leadership.
"I am really looking forward to seeing these projects come to life, covering important issues impacting young people including the environment, youth mental health and inclusive multicultural communities.
"I would also like to thank the teachers and parents who are supporting these young people in their leadership journey. Without them, these forums would not have been possible," she said.
The 11 participating schools were:
Mindarie Primary School
Quinns Beach Primary School
Yanchep Secondary College
Carramar Primary School
Joseph Banks Secondary College
Rawlinson Primary School
Roseworth Primary School
Hocking Primary School
Ashdale Primary School
Wanneroo Secondary College
Ashdale Secondary College
For more information about services available for young people in the City visit: wanneroo.wa.gov.au/cowyouth, email: youth.services@wanneroo.wa.gov.au, or call 9405 5000.
More articles in the news archive.