COVID-19 pandemic information and updates
The City of Wanneroo has launched a dedicated webpage where all the latest information about our facilities, services and events can be found as the COVID-19 situation unfolds. Click here to find out more
Home
Council endorses community favoured plan for Hinckley Park
Published Wednesday, 11th March 2020
The City of Wanneroo has endorsed a concept plan for Hinckley Park in Hocking that will see the open space transformed into a vibrant community recreation area.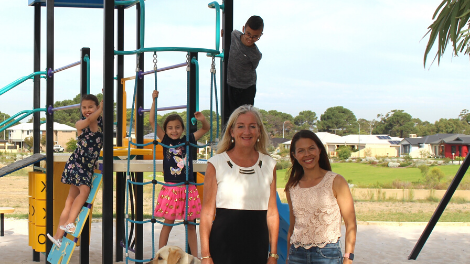 Council endorsed the concept plan at its 10 March meeting after reviewing community feedback about the proposed design for the park which is located between Hinckley Parkway and Copenhagen Drive.
The plan includes nature play areas, a children's bike circuit, a basketball court, rock wall, playground, barbeque facilities and picnic shelters.
More than 100 people completed an online survey about the concept plan, with overwhelming support for the development of the park. In response to feedback received, the City will investigate design and costs for toilets and additional parking.
Mayor Tracey Roberts said it was an exciting project that would align with the Hocking community's expectations for the park.
"Presently there are no amenities on the site other than a small playground, the City is proud to have developed this concept plan for a park that can be enjoyed by the local community for many years."
Local resident Adriana Cullen said the park would be a wonderful addition to her neighbourhood.
"My husband and I chose to build in Hocking because it is a family friendly suburb. I often take my children to the park and cannot wait to see it transformed into an exciting play area where we can enjoy barbeques and picnics as a family."
Construction of the park is expected to begin in October 2020 with completion scheduled for April 2021.
To view the endorsed concept plan of Hinckley Park, click here.
More articles in the news archive.