COVID-19 pandemic information and updates
The City of Wanneroo has launched a dedicated webpage where all the latest information about our facilities, services and events can be found as the COVID-19 situation unfolds. Click here to find out more
Home
Fauna Management a continuing priority
Published Friday, 13th March 2020
The City has revised its Fauna Management Policy to ensure developers are aware of and meet their responsibilities under State Government legislation for the humane treatment of native fauna.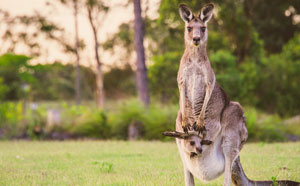 At its 10 March meeting, Council adopted the policy which provides further clarity to developers and land owners on fauna containment, fencing and fauna management options.
Mayor Tracey Roberts said the revised policy ensures developers deal with kangaroo and emu populations in a humane manner and that this must be considered and acted on prior to any disturbance of their habitat.
"The City, along with its residents care deeply for the welfare of our fauna and this policy will ensure that our precious native animals are given every consideration during development in our growing City; guidelines need to keep pace with the increase in development over the past 30 or 40 years," Mayor Roberts said.
"The policy more explicitly sets out the obligations on land owners and developers and notes them as the parties responsible for proactive fauna management.
"New provisions in the policy state that land owners and developers must demonstrate that all fauna management options have been considered.
"The policy also reiterates the importance of seeking fauna management advice from the Department of Biodiversity, Conservation and Attractions (DBCA) as the responsible authority, as early as possible in the development process, and before any site work commences.
"Developers and land owners have clear requirements to follow in seeking advice from DBCA before they commence work and the City's revised policy draws developer and land owner attention to important state legislation the City is keen to support."
The revised policy Local Planning Policy 3.3 Fauna Management can be viewed by clicking below:
More articles in the news archive.