COVID-19 recovery information and updates
The City of Wanneroo is reopening a number of community services and facilities in line with Phase 4 of the State Government's COVID-19 Roadmap to Recovery. Click here to find out more
Home
Aquamotion staff save man's life
Published Monday, 16th March 2020
A Wanneroo resident has thanked Aquamotion staff for saving his life after he suffered a heart attack at the City of Wanneroo leisure centre.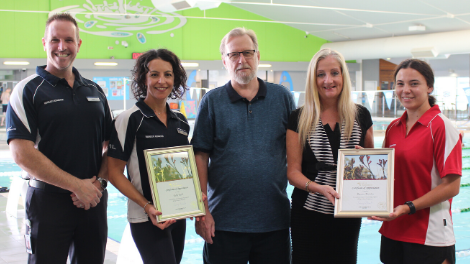 Bruce Chalmers had just finished his regular Nifty Fifties Aqua Class at Aquamotion when he suddenly felt unwell and collapsed.
Noticing that Mr Chalmers was in distress, Pool Supervisor James Roper and Lifeguards Rhianna Matulin and Kellie Field rushed to his aid. When they found he was not breathing and did not have a pulse, they immediately performed emergency resuscitation and administered a defibrillator until he regained consciousness.
A month on from the traumatic event, Mr Chalmers returned to Aquamotion last week with Mayor Tracey Roberts to personally thank the staff who saved his life.
"I am extremely grateful to the people at Aquamotion. I was assured by the paramedics and the medical team at Joondalup Health Campus that my quick recovery was due, in no small part, to their intervention," Mr Chalmers said.
"Had it not been for Aquamotion's vigilant and highly skilled staff I may not be here today. I cannot thank them enough."
Mayor Tracey Roberts also praised staff for their quick response, issuing them with a City of Wanneroo Certificate of Appreciation.
"I commend James, Rhianna and Kellie for their quick, decisive actions in this life threatening emergency; they are shining examples of the high standard of care provided to all patrons at Aquamotion," Mayor Roberts said.
For more information about Aquamotion call 9405 5999 or visit wanneroo.wa.gov.au/wannerooaquamotion.
More articles in the news archive.