COVID-19 recovery information and updates
The City of Wanneroo is reopening a number of community services and facilities in line with Phase 3 of the State Government's COVID-19 Roadmap to Recovery. Click here to find out more
Home
$2.52 million to improve waste processing in the City
Published Wednesday, 18th March 2020
The City of Wanneroo has secured up to $2.52 million dollars in funding from the State Government's Better Bins Kerbside Collection Program.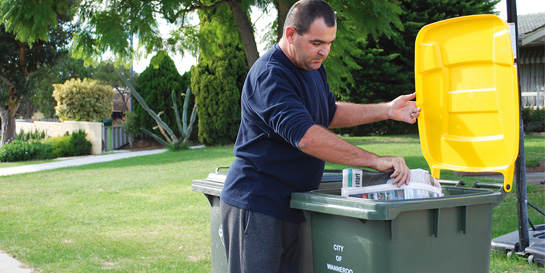 Better Bins encourages the use of a three bin system for general waste, co-mingled recycling, and garden and/or food organics, to support greater separation leading to higher waste recovery rates.
The funding is administered by the Waste Authority, on behalf of the Department of Water and Environmental Regulation (DWER).
At its 10 March meeting, Council endorsed the Better Bins funding agreement, which will assist the City to implement its planned residential garden organics ('GO') three bins collection system.
Mayor Tracey Roberts thanked the State Government for its significant contribution towards improving recycling and waste recovery.
"On behalf of Council and our residents, I sincerely thank the Waste Authority and Department of Water and Environmental Regulation for its financial support over the next three years," Mayor Roberts said.
"Securing the maximum Better Bins funding amount is an excellent outcome for our community and residents who are passionate about looking after the environment for present and future generations."
The GO system will allow the City to separate up to 18,000 tonnes of garden organic materials from waste which can be processed into mulch, compost and soil improver, and save almost $1 million in waste costs every year.
The City plans to present tender options for a suitable GO waste processor to Council in the coming months.
Under the GO implementation proposal, City of Wanneroo residents living on properties 400 square meters and above will be provided with a colour-coded third bin to manage garden waste including tree cuttings and lawn clippings.
More articles in the news archive.