COVID-19 recovery information and updates
The City of Wanneroo is reopening a number of community services and facilities in line with Phase 3 of the State Government's COVID-19 Roadmap to Recovery. Click here to find out more
Home
Community praised for following health experts' advice
Published Friday, 20th March 2020
The City of Wanneroo thanks residents for adhering to the advice of medical experts during the COVID-19 outbreak.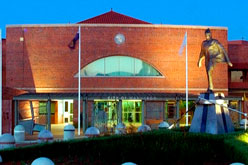 Mayor Tracey Roberts commended the community for observing the advice of the World Health Organization and the State and Federal Departments of Health.
"As a Council, we are following the advice of health experts when we make decisions about our services, and we are focused on ensuring we continue to deliver critical services, including kerbside bin pick-ups, throughout this crisis," Mayor Roberts said.
"While community members follow social distancing and other health advice and with declining community demand for some City-run public services, the City is temporarily closing non-essential services.
"Without doubt the COVID-19 outbreak is having an impact on our economy, the way we interact, and our sense of wellbeing.
"We understand this is a difficult time for many in our community, including our small businesses and community groups and we are already planning for how we can support our residents, ratepayers and local businesses through the recovery phase following the outbreak.
"We have always supported our small businesses and community groups and we will continue to do so.
"We are a strong and resilient community that cares about our neighbours, so I encourage you to keep that community minded focus at the forefront of everything you do, but safely.
"Please continue to communicate with others, especially those who may be particularly vulnerable at this time. If not safe to visit family, friends or neighbours in person, a check in via phone, video call, email or social media can make a tremendous difference to our ability to connect with each other.
"We are in unprecedented circumstances which we are experiencing together."
Please visit wanneroo.wa.gov.au/covid-19 for the latest information on program postponements and facility closures.
More articles in the news archive.