COVID-19 recovery information and updates
The City of Wanneroo is reopening a number of community services and facilities in line with Phase 3 of the State Government's COVID-19 Roadmap to Recovery. Click here to find out more
Home
Western Australian intrastate restrictions announced
Published Saturday, 28th March 2020
The WA State Government has announced upcoming new restrictions limiting movement between Western Australia's nine regional areas aimed at slowing the spread of COVID-19.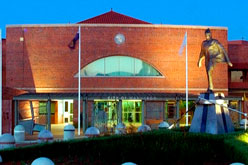 The restrictions will come into effect from midnight 31 March and will mean Western Australians will no longer have free movement to cross intrastate borders. However, there are certain exemptions in place for critical travel.
City of Wanneroo residents are urged to check the WA Government website for the most up-to-date information as it becomes available.
The move follows previously issued advice to limit all non-essential travel to halt the spread of COVID-19.
Wanneroo Mayor Tracey Roberts said our residents should consider reviewing their Easter holiday plans to avoid unwelcome surprises.
"We've been anticipating the restrictions on intrastate travel and will be reviewing the information as it comes in to understand the impact the new measures will have on our residents and local businesses," said Mayor Roberts.
"I know that for many of our residents a family trip to regional WA during the cooler months is a favourite getaway under normal circumstances but these are far from normal times.
"Although measures like these are frustrating for some, they are important to protect our community and to slow the spread of COVID-19. We need to be mindful of the wellbeing of our rural and regional communities as well as metropolitan centres.
"Our primary method to limit the spread of the virus remains social distancing – and the intrastate restrictions will limit unnecessary contact and risk.
"As a reminder for our own communities, we need to follow the WA Health Department advice –wash your hands frequently for at least 20 seconds, maintain at least 1.5 metres distance between yourself and other people, and be responsible and self-isolate if you are ill."
For more information on current COVID-19 advice, government restrictions and impact on the City's services and facilities, go to wanneroo.wa.gov.au/covid-19
More articles in the news archive.