Home
Buying local: Bitumen surfacing tender awarded to longstanding City contractor
Published Monday, 18th May 2020
Local construction company Roads 2000 has been awarded a three-year contract to continue providing bitumen surfacing and associated civil works to the City of Wanneroo.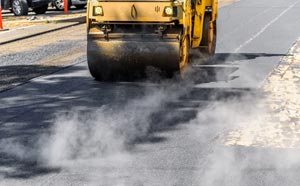 Roads 2000, whose contract with the City was due to expire on 30 June 2020, was successful in a competitive tender process, securing a renewed contract that runs until June 2023, with the option to extend further into the future.
Wanneroo Mayor Tracey Roberts said the contract renewal aligned with the City's commitment to working with local contractors and fostering employment opportunities for local people, a commitment which has only been strengthened in light of the current economic strain caused by the COVID-19 pandemic.
"Roads 2000 has been a long-term contractor with the City of Wanneroo, and there has been a consistently high level of service provided to the community under this contract," she said.
"As our local economy starts to recover from the impacts of COVID-19, the City will look to work with local suppliers and contractors – like Roads 2000 – where possible, to help cultivate a sustained, long-term recovery and foster job growth."
Roads 2000 and Politis Group Business Development Manager Trayan Politis said the firm was excited to continue to deliver road projects for the City and its residents.
"Once again, the City's support of local business and employment demonstrates their leadership in building an exciting and thriving local economy," he said.
The scope of the works covers the supply and laying of asphalt surfaces for new roads and paths, the resurfacing of existing roads, road maintenance, kerb removal and drainage adjustments associated with road resurfacing projects and related works.
More articles in the news archive.