Home
Pay it forward with the Wanneroo Urban Pantry
Published Wednesday, 20th May 2020
The Wanneroo Urban Pantry is calling for people to donate essential items to help those in need.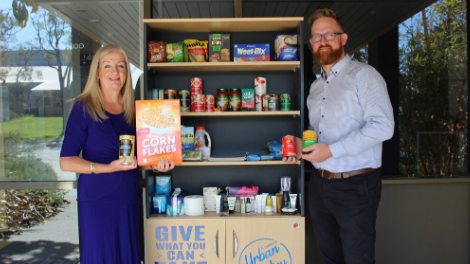 The Wanneroo Urban Pantry features a cupboard of food, household cleaning and toiletry items that anyone in need can help themselves to.
The Pantry was established in July 2019 by a Tapping couple, Tim and Chloe Nickoll, with the assistance of the City of Wanneroo.
"The Pantry was set up on the pay it forward basis, encouraging people to give what they can and take what they need," Mr Nickoll said.
"Unfortunately, the demand these days has understandably outstripped supply which is why we have put a call out on our Facebook page for basic staple pantry items, ready to prepare meal kits and tinned foods.
"We are also finding that financial hardship is putting a lot of strain on pet owners to keep their loyal companions fed, so donations of pet food such as tinned dog and cat food or dry biscuits would be greatly appreciated."
Wanneroo Mayor Tracey Roberts recently visited the Pantry to make a donation and encouraged the Wanneroo community to get behind the initiative.
"I want to thank Tim and his wife for their ongoing commitment to this wonderful community resource."
"Supporting initiatives like this make a real difference to the everyday lives of vulnerable community members, who I know are very appreciative of the Pantry."
The Wanneroo Urban Pantry is available 24/7 and is located outside of the entrance to the Wanneroo Community Centre, between Aquamotion and Wanneroo Memorial Park.
For more information on items that you can donate, visit their Facebook page: www.facebook.com/WannerooUrbanPantry
More articles in the news archive.