COVID-19 recovery information and updates
The City of Wanneroo is reopening a number of community services and facilities in line with Phase 4 of the State Government's COVID-19 Roadmap to Recovery. Click here to find out more
Home
Challenging stereotypes through art
Published Tuesday, 26th May 2020
National Sorry Day, or the National Day of Healing, is an annual event that has been held in Australia on 26 May since 1998.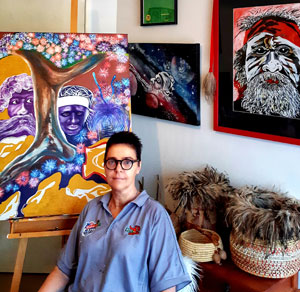 National Sorry Day, or the National Day of Healing, remembers and commemorates the mistreatment of the country's Indigenous peoples.
To mark the occasion, the City spoke to local Noongar artist and Marangaroo resident Courtney Hill-Aaron – who exhibited work at the Wanneroo Gallery during the Home exhibition last year – about her art, challenging stereotypes about contemporary Aboriginal art and the prejudice faced by fair-skinned Aboriginal people.
How would you describe your style?
I consider myself a multidisciplinary artist as I do portraiture, abstract and landscape paintings. I also do basket weaving and make sculptural works with found objects. My basket weaving was showcased at the Wanneroo Gallery in the recent Home exhibition, and I'm currently working on traditional Aboriginal baskets and paintings to be included in an upcoming exhibition at the Janet Holmes-a-Court Gallery in West Perth.
Can you tell us about your Noongar heritage and how it has influenced your art?
I know my ancestry far beyond early colonial days. My immediate family lines stem from my great great grandmother Elizabeth 'Bessie' Hill, a Noongar woman who married Joseph Hill Snr, a former convict. Their son Arthur, my great-grandfather married Margaret Pickett, an Aboriginal woman. One of their children Edith was my Nana.
I'm proud to have a collection of ethnicities running through my veins and this comes through in my art. I think people get a glimpse of Aboriginal narrative when looking at my artworks and people generally like my distinctive art style. My heritage is important to me and my biology confirms thousands of years of connection to this country.
Your work challenges stereotypes about Aboriginal people; how have you been personally affected by these prejudices?
I am and will always be an Aboriginal woman with fair skin and over the years I have dealt with what I call 'colourism'. When I challenge perceptions and questions about what Aboriginal people can be, or look like I mostly find that negative views come from ignorance.
Being an Aboriginal person isn't about skin colour. My Aboriginal ancestry is the foundation of who I am and my cultural identity can never be taken from me. I don't feel the need to justify to anyone who I am anymore.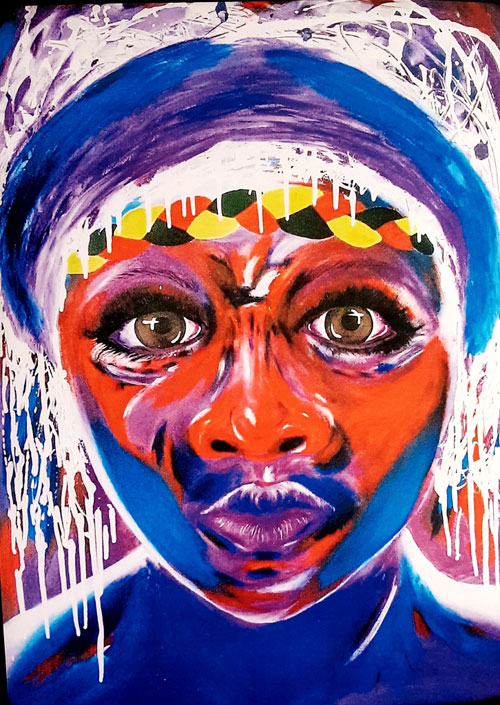 What misconceptions do people have about Aboriginal art?
People often think that dot paintings are the only form of Aboriginal art. The truth is that Aboriginal artists use a variety of art styles to express themselves, tell stories and convey themes. When working on an art piece, I like to encourage the viewer to think about how they see and understand contemporary Aboriginal art and to shake off stereotypes.

More articles in the news archive.