COVID-19 recovery information and updates
The City of Wanneroo is reopening a number of community services and facilities in line with Phase 4 of the State Government's COVID-19 Roadmap to Recovery. Click here to find out more
Home
City of Wanneroo welcomes additional funding from Federal Government
Published Wednesday, 27th May 2020
The City of Wanneroo has received an additional $1.973 million of funding under the Federal Government's national stimulus.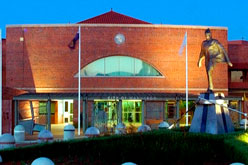 City of Wanneroo Mayor Tracey Roberts said the funding boost would directly benefit the local community and assist the City of Wanneroo in the road to recovery beyond COVID-19.
"The City is extremely grateful to the Federal Government for this funding and it could not have come at a better time," Mayor Roberts said.
"The City will be receiving $1.973 million through this program and we are now working to identify projects to allocate this additional funding to.
"The City will direct this money to projects that meet funding conditions, and deliver those that will benefit the community and boost our local economy. We are also reviewing future programs so we can bring them forward and prepare a comprehensive works schedule."
The Department of Infrastructure, Transport, Regional Development and Communications will consult with local government organisations in the coming weeks to finalise details.
More articles in the news archive.