COVID-19 recovery information and updates
The City of Wanneroo is reopening a number of community services and facilities in line with Phase 4 of the State Government's COVID-19 Roadmap to Recovery. Click here to find out more
Home
Good Chef Bad Chef showcases local gourmet goodies
Published Tuesday, 2nd June 2020
Local growers have been granted the opportunity to have their gourmet goodies featured on lifestyle show, Good Chef Bad Chef.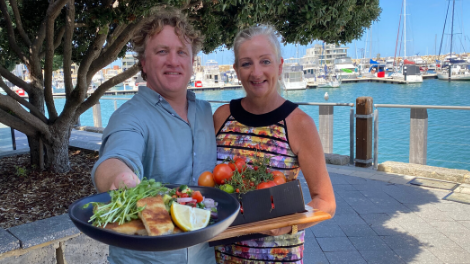 In a series of cooking segments filmed back in February, the popular Channel 10 show and self-proclaimed 'bad chef' Adrian Richardson visited a number of local growers and businesses across the Wanneroo region – starting with Yanchep Lavender Farm and Horti-Pride Gooseberry Farm in Mariginiup – to gather supplies for a delectable lavender pancake recipe.
Other local businesses featured in the series included Indian Ocean Brewing Co in Mindarie, Trandos Tomatoes in Neerabup, Blazing Saddles Chilli Plant Company in Mariginiup, Jumanga Olives in Carabooda and Mindarie-based fishing charter firm Best of Boat Worlds.
In another dish, Adrian paired fresh dhufish caught off the coast with salsa made from City of Wanneroo grown olives, chilli, cucumber and tomatoes, plus locally brewed New England IPA beer bread.
Wanneroo Mayor Tracey Roberts said she hoped the series would boost the profile of local produce, and encourage residents and tourists alike to visit the Wanneroo region and explore all that it has to offer.
"It has been wonderful to see Adrian cooking up culinary delights using delicious produce from our own backyard," Mayor Roberts said.
"Wanneroo is often referred to as the 'food bowl of the north', and we are very privileged to be surrounded by so many great growers. I hope that being featured on Good Chef Bad Chef will inspire our community to sample local produce and support local businesses."
"Now more than ever, it is imperative we raise the profile of local growers and give them a platform to showcase their great food."
Yanchep Lavender owner Karla Champion said the business was grateful for the opportunity to be featured.
"I thought the episode was great," Ms Champion said. "Local growers such as ourselves are struggling at the moment, so the more exposure and the more we can be raising the profile of local produce, the better."
To discover Wanneroo for yourself, visit www.discoverwanneroo.com.au, where you will find information about all the local businesses featured on Good Chef Bad Chef and much more.
Foodies can catch up on both episodes of Good Chef Bad Chef on the City of Wanneroo's YouTube channel.
More articles in the news archive.