COVID-19 recovery information and updates
The City of Wanneroo is reopening a number of community services and facilities in line with Phase 4 of the State Government's COVID-19 Roadmap to Recovery. Click here to find out more
Home
Marmion Avenue widening project reaches final chapter
Published Wednesday, 3rd June 2020
With project completion set for 30 June, the 11.5km stretch of road will provide the much anticipated dual carriageway from Butler to Yanchep, increasing motorist capacity and decreasing congestion.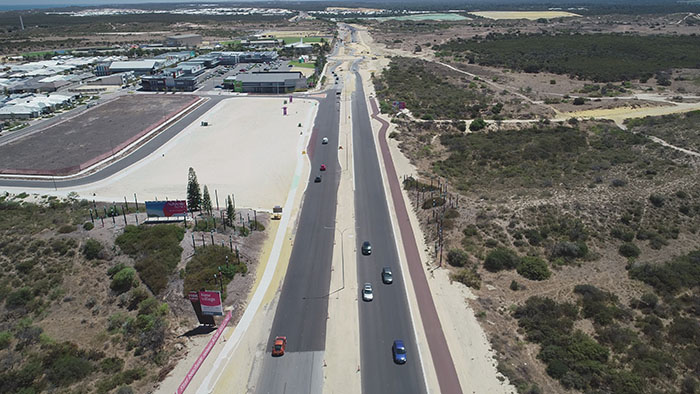 The new finish date was announced as part of a revised construction program provided by the project contractor RJ Vincent late last week.
Once delivered, the project will be a month behind schedule, however Wanneroo Mayor Tracey Roberts said the reasons for the delay, whilst frustrating, were understandable, due to inclement weather, a global health pandemic, unforeseen remedial works and additional major add-ons to the project.
"The dualling Marmion Avenue has been a very complex project that has evolved significantly throughout the project's life," Mayor Roberts said.
"Through close collaboration with Main Roads WA, the Water Corporation, numerous northern corridor developers and other key stakeholders the City and RJ Vincent revised the project plan to include a further $6 million of works. This includes the provision of additional intersections and accommodating the traffic impacts on Marmion Avenue, resulting from the forthcoming Mitchell Freeway extension to Romeo Road and the extension of the rail to Yanchep.
"Completing these works will now future proof this stretch of road and avoid further disruption to motorists down the track.
"I would like to thank the State Government for their $23 million contribution to this project and also the community for their patience during construction. Without doubt we are all looking forward to completion of the roadworks."
Landscaping works are also scheduled for completion this year.
More articles in the news archive.