COVID-19 recovery information and updates
The City of Wanneroo is reopening a number of community services and facilities in line with Phase 4 of the State Government's COVID-19 Roadmap to Recovery. Click here to find out more
Home
Revised donations policy benefits local mental health service
Published Thursday, 4th June 2020
A local mental health service that provides support to pregnant women and families with young children is one of the first groups to benefit from the City's revised donations policy.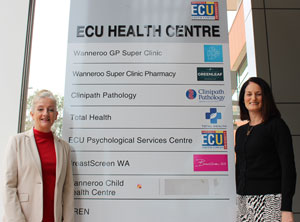 Earlier this month Wanneroo Council agreed to redirect funding normally allocated to community groups and sporting clubs for events and other activities, to not-for-profit groups supporting local people during the ongoing COVID-19 emergency.
The change enabled Edith Cowan University's Pregnancy to Parenthood program to successfully apply for City funding to help deliver counselling services to local families during the COVID-19 pandemic.
As well as providing a $2,933.95 grant which will be spent on supermarket vouchers for needy families and a subscription to a confidential online consultation service, the City will collaborate with ECU to forge connections with local charities specialising in distributing food to people in need.
Mayor Tracey Roberts said the City was proud to be involved. "Nearly all of Pregnancy to Parenthood's clients are local residents who not only require mental health services but are having to deal with the impact of COVID-19," said Mayor Roberts.
"The City commends ECU for providing such an essential service; we are pleased we could help and look forward to working with this program in the future."
ECU Pregnancy to Parenthood Clinic Manager Rochelle Matacz thanked the City for its support.
"This money will enable us to provide a more comprehensive service, supporting families with their emotional distress as well as meeting some of their urgent material needs during this time of unexpected hardship and isolation," said Ms Matacz.
For more information about the City's Donations Program contact the Corporate Support Team on 9405 5025 or 9405 5052.
To learn more about Pregnancy to Parenthood call 9303 7801 or email psychologicalservices@edu.edu.au.
More articles in the news archive.