COVID-19 recovery information and updates
The City of Wanneroo is reopening a number of community services and facilities in line with Phase 4 of the State Government's COVID-19 Roadmap to Recovery. Click here to find out more
Home
City of Wanneroo supports local business with tender award for groundwater production bores
Published Thursday, 4th June 2020
The successful tenderer, Aqua Attack Drilling, is based in the City of Wanneroo, with all of its employees residing locally.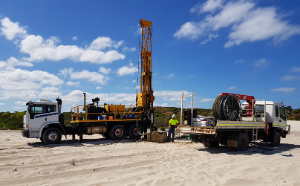 City of Wanneroo Mayor Tracey Roberts said the tender award was another example of the City's efforts to support local businesses and would provide a timely boost to the local economy.
"The City is always seeking to support local commerce. Particularly during these challenging times, when many small businesses are experiencing difficulties, it is wonderful that this contract will be maintained by a local company, employing local residents.
"I would like to congratulate Aqua Attack Drilling and thank all of the businesses who made submissions," Mayor Roberts said.
The estimated value of the contract is $750,000 for an initial three-year term.
"Aqua Attack Drilling is delighted to have successfully secured the contract," said Jose Domingues, Director.
"As a local business, we are particularly pleased to be working with the City of Wanneroo to provide valuable amenities for the community."
The tender was advertised in December 2019 and closed in January 2020. The City received five submissions – four from the Perth metropolitan area and one from New South Wales.
Aqua Attack Drilling will construct groundwater production bores as part of the City's Capital Replacement Program and perform any maintenance works as required. The constructed bores will be used to extract groundwater to irrigate parks, gardens and streetscapes throughout the City.
The City maintains around 300 groundwater production bores, which require replacement when they reach the end of their useful life.
Aqua Attack Drilling has successfully performed previous project works for the City, including constructing a groundwater production bore at Marangaroo Golf Course in October 2016.
Find out more about the City's #SupportWannerooLocal campaign at: wanneroo.wa.gov.au/supportwanneroolocal.
More articles in the news archive.