Home
Exciting new sporting facilities to benefit residents in City's north
Published Thursday, 23rd July 2020
Residents in the City of Wanneroo's north are closer to enjoying a range of new sporting and leisure facilities at Halesworth Park in Butler/Alkimos.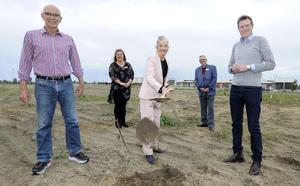 City of Wanneroo Mayor Tracey Roberts was joined at a turning of the sod event last week by Federal Member for Pearce Hon Christian Porter, Member for Butler Hon John Quigley and City of Wanneroo North Coast Ward Councillors Lewis Flood and Natalie Sangalli.
"The sensational new facilities at Halesworth Park will overlap the suburbs of Alkimos and Butler. The City worked closely with sporting clubs and the northern corridor community during the design phase of this project to ensure the development of a suitable facility that will be well utilised for years to come," said Mayor Roberts.
"The complex will feature two multi-sport ovals, netball and tennis courts, a sports pavilion, changing rooms, picnic facilities and a children's play area, which will deliver greater sporting and recreational opportunities for local clubs and residents.
"I would like to thank the Federal Government and State Government for their contributions to the project."
Alkimos College will jointly use the new facility; as a result, there will be a total of 16 courts available, comprising the eight netball courts to be built at the site, in addition to eight existing courts at the College.
The City of Wanneroo is committing $11.5 million to build the new facilities, with $5 million in funding coming from the Australian Government's Community Development Grants Programme, $2 million from the WA Department of Local Government, Sport and Cultural Industries and $980,000 from the WA Department of Education and LWP Property Group respectively.
"Residents are one step closer to enjoying a state-of-the-art sporting precinct with the City of Wanneroo recently awarding tender for the Butler Sporting Complex," said Federal Member for Pearce Christian Porter.
"I am proud that the Federal Liberal Government is contributing $5 million to this important project that will provide a sports hub for 75,000 people in our northern suburbs. I'm committed to making sure our community has the infrastructure it needs and deserves, and that is why I am so passionate about supporting the Butler sporting complex."
"The Butler electorate is growing by a street a week and people need local community facilities. I am proud the McGowan State Government has provided the City of Wanneroo with $2m to kick off construction of the Halesworth Park open space to cater for our fast-growing suburbs," said Member for Butler John Quigley.
Work on the project began in June 2020 and is scheduled for completion in late 2022.
For more information on the City's 2020/21 Budget, visit wanneroo.wa.gov.au/budget20.
More articles in the news archive.