Home
City's Ignition scholarships help entrepreneurs spark bright ideas into life
Published Wednesday, 16th September 2020
The City of Wanneroo has awarded business development scholarships to local entrepreneurs Lorraine Town and Jonathan Szeto.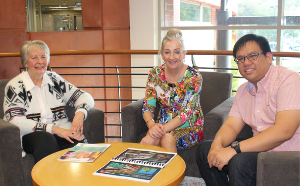 Wanneroo Mayor Tracey Roberts said the City was delighted to offer the two fully funded scholarships for the Curtin Ignition program, which gives business people the tools, contacts and confidence to transform their ideas into successful ventures.
"We have many fantastic, innovative businesses here in the City of Wanneroo," Mayor Roberts said. "The City is committed to supporting local commerce wherever possible and encourages pioneering new industries that stimulate the economy and create jobs.
"The scholarships attracted a very high calibre of applicants, with some sensational ideas presented. On behalf of the City, I congratulate Lorraine and Jonathan and look forward to seeing their businesses flourish."
Jonathan Szeto
Jonathan Szeto brings innovative ideas to the hemp industry, including utilising the plant for clean energy bio-fuel and bio-plastics.
"I strongly believe there is a huge opportunity for bio-plastics to be adopted into the mainstream manufacturing and automobile industries," Jonathan said.
"For the last three years, I have been working with cultivators and medical professionals on the science around hemp; now it is time to take the next step.
"I was attracted to the Curtin Ignition program by the chance to work with mentors who provide a hands-on approach. The opportunity to remain connected with the wider alumni and receive ongoing support was very appealing.
"The community is shifting towards greater understanding and acceptance of eco-friendly materials, as seen by changing behaviours in relation to reusable shopping bags and plastic straws.
"There is rising global demand for bioplastics. It is a very interesting sector, which is likely to grow significantly in the coming years."
Lorraine Town
Lorraine Town facilitates The Ageing R-Evolution Program, providing education around the Advance Health Directive, a legal document that defines health care choices prior to and during end of life. The program reduces stress for both the participant and their family while saving on medical costs.
"After 40 years facilitating personal development, my passion is to give back by gently reducing fear around dying through education and compassion," Lorraine said.
"I only found out about the City's scholarship opportunity a few days before it closed while facilitating a pilot program at MercyCare, when the supervisor kindly suggested that I apply for the Ignition program. It was one of those magical moments of synchronicity, which brings much gratitude to the Wanneroo Council for the opportunity to continue to refine and ignite this community, heart-based service project.
"The beauty is that I walk beside participants while experiencing the same challenges and hope that I may be an inspiration that it is never too late to follow your passion and make a difference in the community."
More articles in the news archive.