Home
New bins installed to protect City's marine environment
Published Wednesday, 16th September 2020
New bins located at popular fishing spots in Quinns Rocks and Mindarie aim to reduce the amount of waste entering our oceans.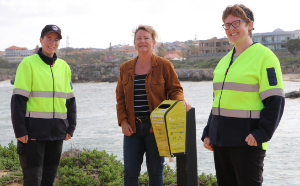 "It is important that the City's beautiful natural environment is preserved," said Wanneroo Mayor Tracey Roberts. "The new bins will assist anglers in disposing of fishing line and other materials responsibly."
"We have a passionate community in the area that cares deeply about the health of our coastline and protecting native flora and fauna; a clear example was the recent rescue of a sea turtle by local resident Henry Warner and his friends."
Mindarie resident and volunteer Tanya Henkel said she got in touch with the City of Wanneroo after seeing a similar initiative lead to positive change in Mandurah and other coastal areas in Western Australia.
"I'm really thrilled, this is a very positive step for the City of Wanneroo," she said. "Hopefully it will make people think and lead local fishers to do the right thing by binning their litter."
"Hooks and other fishing equipment can entangle or be ingested by birds, like pelicans, cormorants and seagulls. They are also a risk to marine animals, like the dolphins that were sighted in the marina a few weeks back."
The bins are part of the 'Reel it in' project managed by the Department of Biodiversity, Conservation and Attractions. Since 2013, over 110km of fishing line, 18,000 hooks and sinkers and 12,000 bait bags have been collected from existing 'Reel it in' bins located across Perth.
The bins are installed on poles made from recycled plastic collected through the environmentally friendly REDcycle program, which keeps soft plastics away from landfill.
More articles in the news archive.