Home
Council support secures new home for Wanneroo RSL
Published Thursday, 24th September 2020
City of Wanneroo Councillors visited Wanneroo RSL's new clubrooms last week, following a lease agreement that secured the new home for the organisation.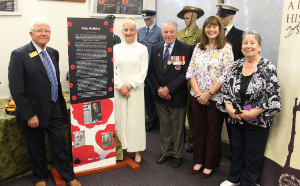 Wanneroo RSL President Jack Le Cras OAM welcomed Mayor Tracey Roberts and Central Ward Councillors Deputy Mayor Frank Cvitan, Jacqueline Huntley and Dot Newton to the new premises, located on the ground floor of Wanneroo Community Centre.
The 122m2 floorspace includes offices, meeting areas and ample space to display Wanneroo RSL's significant collection of military artefacts.
"The City is delighted to help secure a permanent home for Wanneroo RSL," Mayor Roberts said. "This fantastic outcome would not have been possible without the strong and consistent support of Council, particularly Councillor Dot Newton. The new clubrooms are in the ideal location, with Memorial Park situated just outside.
"The City is working with local schools who visit our nearby Wanneroo Regional Museum to link them with the RSL and its fascinating display of military history, allowing young people to explore Australia's participation in conflicts throughout the decades.
"The City is proud to support the Wanneroo RSL, who do outstanding work within our local community and have an essential role in supporting our veterans."
"I would like to thank the City of Wanneroo for accommodating Wanneroo RSL at the Community Centre," said President Jack Le Cras OAM.
"The new clubrooms are 12 times the size of our previous offices. The new, larger premises will allow us to engage more readily with our members and will provide a place for the community, including young people, to explore our nation's military history and learn veterans' stories."
The City of Wanneroo Council unanimously approved a lease with Wanneroo RSL in December 2019 for an initial term of five years, with an option of a further five-year term.
The lease agreement provides for a nominal rent of $1.00 per annum, with no requirement for Wanneroo RSL to pay for any outgoings or services such as electricity, water or insurance. The City has also undertaken the internal fit-out of the premises at no cost to Wanneroo RSL.
More articles in the news archive.