Home
Wanneroo Council endorses construction tender for Hinckley Park
Published Wednesday, 21st October 2020
The transformation of Hocking's Hinckley Park into a vibrant community recreation area is a step closer following approval of a construction tender at the 20 October City of Wanneroo Council meeting.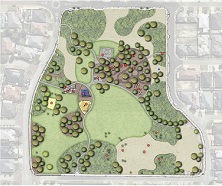 Council accepted a tender from Horizon West Landscape Constructions for the $1.4 million project to develop the 4.1ha space.
The concept plan for the park, which is located between Hinckley Parkway and Copenhagen Drive, was endorsed at a meeting in March after the Council reviewed community feedback about the proposed design.
The plan includes nature play areas, a children's bike circuit, a basketball court, rock wall, playground with rubber softfall and shade sails, barbeque facilities and picnic shelters.
Mayor Tracey Roberts said it was an exciting project that would align with the Hocking community's expectations for the park.
"The City is proud to have developed this concept plan for a park that can be enjoyed by the local community for many years," she said.
"Presently, there are no amenities on the site other than a small playground. This project will see Hinckley Park transformed into an exciting play area where our community can enjoy a range of activities."
Preparation works at the site started this month. Construction of the park is expected to begin in February 2021 with completion scheduled for June 2021.
To see the Hinckley Park concept plan visit www.wanneroo.gov.au.
More articles in the news archive.