Home
New Yanchep skate park officially opened
Published Wednesday, 4th November 2020
Skaters in Yanchep have a new place to practice their skills following the official opening of Splendid Park skate park in October.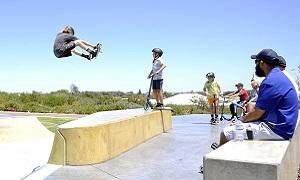 Wanneroo Mayor Tracey Roberts said the City had worked closely with the local community to design the facility.
"The initial idea for the skate park came from a local petition," Mayor Roberts said. "The City then engaged with young people and their families through our YSpeak! youth leadership workshop.
"The result is a fantastic park that caters for all types of skaters, scooter riders and BMX riders. There is something for everyone, from beginners to experienced users.
"I would like to thank Lotterywest for its $250,000 contribution and the State Government for its $450,000 in funding towards the development of this outstanding facility."
Hon. John Quigley MLA, Member for Butler, said the State Government was proud to provide a $450,000 contribution to the City of Wanneroo to develop the facility.
"Before the last election, I worked with local community groups and skaters on their idea – to get a skate park in Yanchep to give young people and adults a sense of community and more to do," Mr Quigley said.
The skate park was a hit with City of Wanneroo resident Claire and kids Jorja and Jet, who were carving up the ramps.
"This is a very nice skate park – I'd love to come back again!" Jorja said.
Yanchep local Shannon said he had a connection to the park's community-led design process.
"One of my friends was closely involved in the design process with the City of Wanneroo; he's a keen skateboarder, so he helped design a lot of it," Shannon said. "I've got three kids who love skateboarding at the park," he added.
Splendid Park is ideally located just off Marmion Avenue, Yanchep. The site, which already features multipurpose ovals, cricket nets and long jump pits, is also the planned location of a future cycling facility.
More articles in the news archive.