Prescribed burn - Doogarch Park Carabooda. Saturday 24 April at 8am.
The City's Volunteer Bush Fire Brigade will be undertaking a prescribed burn at Doogarch Park, Carabooda on Saturday, 24 April 2021 at approximately 8am (weather permitting).
Home
Community Waste Drop-Off Day - Saturday 17 April
Published Tuesday, 23rd March 2021
Time for a clear out! If you've been waiting to dispose of unwanted household items, the time has come.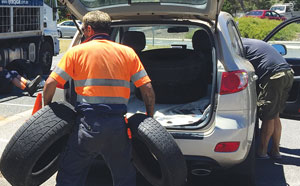 The City of Wanneroo's annual Community Waste Drop-Off Day will be held on Saturday 17 April 2021.
Wanneroo Mayor Tracey Roberts said the City was committed to providing residents with opportunities to reduce, reuse and recycle waste.
"Last year we collected 1,000 tyres, 9.3 tonnes of electronic waste (e-waste), and 5.6 tonnes of clothing," she said.
"That is an incredible amount of waste that was saved from landfill.
"This is the perfect opportunity to dispose of waste that does not belong in household bins. Many of these items can be recycled and given new life."
Residents can discard a range of items including tyres, e-waste, clothing, bulk cardboard and polystyrene.
Community Drop-Off Day Details
Date: Saturday 17 April 2021 // 8am to 4pm
Location: Ashby Operations Centre (north entrance), 1204 Wanneroo Road, Ashby
Cost: FREE
Accepted items
Tyres: Maximum four tyres per household. Residents must show driver's licence or rates notice to drop off tyres. Passenger vehicle and motorcycle tyres only – no commercial tyres.
Clothing: Representatives from registered charities will be on site to collect unwanted clothing. Items accepted: clothing, textiles, manchester, bedding, towels and shoes.
E-waste: Desktop computers and laptops, iPods, mobile phones, hard drives, CDs and floppy drives (computer only), computer server units and UPS systems, inkjet and laserjet printers, LCD, Plasma and CRT monitors and televisions, printers, scanners, copiers, modems and network devices, keyboards, mice and joysticks, fax machines, circuit boards, electronic cables and wiring.
Cardboard and polystyrene
More articles in the news archive.