COVID-19 update - Friday 7 May 2021
Information on the current transitional restrictions for City of Wanneroo facilities can be found on our COVID-19 information page. Further information
Home
City tour puts Wanneroo on show for WA Governor
Published Wednesday, 27th January 2021
The City of Wanneroo was delighted to showcase some of the City's visitor attractions for WA Governor, the Honourable Kim Beazley, on Wednesday 20 January.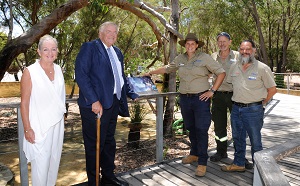 Since restrictions lifted in June last year, the Governor has been conducting a number of day trips around the Perth metropolitan area to encourage local tourism.
Mayor Tracey Roberts said it was an honour to welcome Mr Beazley and a fabulous opportunity to promote the variety of attractions and experiences on offer in the City.
"We have so many fantastic local destinations here in the City of Wanneroo," Mayor Roberts said. "There has never been a better time to explore the wonders close to home."
"The Governor's visit highlighted how accessible the City is, along with the diverse range of activities that can be incorporated into a day trip.
"We are very proud of our local businesses and grateful to be able to share what makes Wanneroo so special with the Governor.
"I encourage all Western Australians to visit and Discover Wanneroo. Visit discoverwanneroo.com.au or follow #discoverwanneroo to plan your holiday here this year."
Mr Beazley's City tour started at popular family attraction, Wanneroo Botanic Gardens and mini golf, before moving to the historic buildings, coastal woodland, lakes and limestone caves at Yanchep National Park.
Stops at The Beach House in Jindalee and the picturesque Yanchep Lavender Farm, Yanchep Lagoon and The Marina, Mindarie showcased some of the City's most popular and Instagram-worthy locations.
The Honourable Kim Beazley AC, Governor of Western Australia was thrilled to experience the City of Wanneroo's tourism hotspots and was amazed at what was within a 30-minute drive of the Perth CBD.
"We really are blessed to live in an area that offers breathtaking beauty and a wide range of outdoor and cultural pursuits," he said.
"Western Australians are renowned for their generosity, demonstrating a natural tendency to protect what's theirs. There has never been a more important time to showcase these traits. I would encourage everyone to visit and help tourism operators locally and throughout WA recover from the economic devastation of COVID-19.
"It's a win-win situation for everyone with families, friends and visitors getting to have fun by experiencing attractions close to home whilst giving a much-needed boost to our local tourism operators."
More about the Governor's Regional Visit Program can be found here.
More articles in the news archive.