COVID-19 update - Friday 7 May 2021
Information on the current transitional restrictions for City of Wanneroo facilities can be found on our COVID-19 information page. Further information
Home
City welcomes new citizens and recognises community champions
Published Wednesday, 27th January 2021
The City of Wanneroo hosted a special citizenship ceremony at its Civic Centre on Tuesday 26 January 2021 and four residents were recognised in the Australia Day Awards.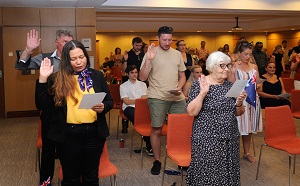 Wanneroo Mayor Tracey Roberts congratulated the Australia Day Award recipients and the residents who became Australian citizens on the day.
"Our region is proud of its rich mix of cultures and heritage, embracing ancient Aboriginal culture, the spirit of our pioneers who forged a future for the City of Wanneroo and a diverse mix of traditions and customs from across the world," said Mayor Roberts.
"As we welcome our new citizens today, it is clear that the common link that makes our City so special is a shared love for the many and varied stories from across our community.
"There are so many stories that bind us. The name 'Wanneroo' is a story in itself; 'Wanna' is the digging stick used by Aboriginal women, and 'roo' means 'the place of'.
"This celebration is an opportunity to acknowledge and respect the contributions made by all our citizens and community members to the life of our City, this region and this country.
"A heartfelt welcome to our new citizens today and congratulations to our local Australia Day Awards recipients who have shown so much passion and determination to make a positive difference for the community," Mayor Roberts said.
Citizenship recipient, Joanne Crowley from Hocking, said she and her family immigrated to Australia from Ireland in 2011 in the hope of finding a better life.
"We are so grateful for the opportunities we have gained while living in Western Australia," she said.
"We love the Australian lifestyle and couldn't have picked a better place in the world to immigrate to.
"We love the laid back culture of the Australian people and the diverse community that is here in Wanneroo. We hope to continue contributing to this wonderful nation. Go Raibh míle maith agat an Astráil!"1
Attendees at the Australia Day ceremony enjoyed a barbeque breakfast provided by the Scouts, before a Welcome to Country and didgeridoo performance by Dennis Simmons, and presentation of the Australia Day Awards.
Over the past decade, the City has welcomed more than 7,500 new citizens at Australia Day ceremonies, in addition to regular ceremonies held by the City throughout the year.
Australia Day Awards recipients
The Australia Day Awards recognise those who have contributed to the City of Wanneroo across a diverse range of activities and initiatives.
Charles Searson Australia Day Youth Award – Aiden Campbell
Aiden is committed to raising awareness about climate change and pursuing positive actions for a more sustainable future. As a surf lifesaver, Aiden sees firsthand how climate change affects our oceans and wildlife.
In October 2019, as a Year 11 student at Butler College, Aiden petitioned the City to take strong action on climate change. Council endorsed the petition in March 2020 and became a signatory to the WALGA Climate Change Declaration, strengthening the City's established commitment to addressing climate change.
Australia Day Award – Donna Marwick-O'Brien
Donna is Creative Director of One Big Voice (OBV), coordinating more than 2,000 primary school students to sing at various events including City functions, ANZAC Day and graduations, culminating in an annual performance at Perth Arena.
Donna's songs are positive, life affirming and uplifting. Most are OBV originals written to address issues such as bullying. In 2020, OBV wrote songs to assist teachers with the mental health and wellbeing of their students during the COVID-19 pandemic.
OBV holds auditions and rehearsals at the Wanneroo Cultural Centre, bringing hundreds of families to the area.
Australia Day Community Group or Event Award – No Limits Perth, accepted by Janine Wood, Chairperson
Wangara-based charity, No Limits Perth (NLP), provides essential support services across Perth's northern suburbs. NLP provides practical help such as food hampers, toiletries and other basic essentials to vulnerable members of the community, including people experiencing family violence.
Under the guidance of Chairperson, Janine Wood, NLP has grown substantially over the past five years. It collaborates with over 80 government and non-government organisations, community groups and charities. During the last financial year, NLP distributed around 1,500 food hampers, feeding 6,000 people. NLP has assisted over 300 vulnerable families in moving house, providing much-needed furniture and household items.
Senior of the Year Award – Eleanor Rigby
Eleanor is the Coordinator of the 'Knit and Natter' group based at Pearsall Hocking Community Centre. The group has grown from six members in 2011 to over 110 today.
Knit and Natter meet regularly to knit clothes, blankets and shawls, which are donated to charities including Cancer Care WA, Ronald McDonald House and Youth Futures WA, aged care facilities, hospitals and women's refuges. In 2019, the group made and donated more than 12,000 items.
During COVID-19 restrictions, Eleanor checked on members of the group, dropping bags of yarn at their letterboxes so that they could keep busy. She spends many hours every week organising and distributing yarn to members of Knit and Natter, making the group's important community work possible.
---
1"Thank you very much Australia!" in Irish
More articles in the news archive.