COVID-19 update - Friday 7 May 2021
Information on the current transitional restrictions for City of Wanneroo facilities can be found on our COVID-19 information page. Further information
Home
It's GO time! City to introduce three bin system
Published Wednesday, 10th February 2021
The City of Wanneroo will introduce a three bin service as part of its commitment to reducing the volume of waste sent to landfill.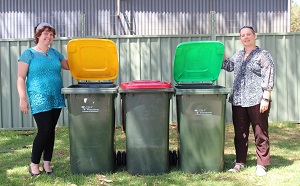 New lime-green lid garden organics (GO) bins and new red lids for general waste bins will be provided free of charge between May and the end of August 2021. Recycling bins will remain unchanged.
Mayor Tracey Roberts said the City was excited to be part of the State Government initiative, which gave Wanneroo residents more involvement in the community's approach to responsible waste management.
"Our residents have said they want to look after the environment and create a clean and safe community for the future," said Mayor Roberts.
"Our new three bin system provides greater opportunities for everyone to manage their household waste and make a positive difference.
"The introduction of a garden organics bin will help divert a larger amount of refuse away from landfill and by using it correctly, we all play a huge part in achieving WA's target of reducing waste to landfill by 70 per cent by 2025."
The project is administered by the City and supported by the Government of Western Australia and the WA Waste Authority. Bulk collection of general and green waste will continue to be provided. There will be no increase to the Waste Services Charge currently paid by residents due to the transition to the new three bin system.
Please visit wanneroo.wa.gov.au/gotime to find out more.
Fast facts:
Registrations for a garden organics bin open on 1 March and close on 28 March 2021. Go to wanneroo.wa.gov.au/binchoices to register. Only property owners and authorised agents can register for a GO bin or smaller general waste bin.
Tenants are welcome to register to receive delivery notifications. All residents who register can opt-in to receive delivery notifications by email and/or SMS.
General waste bin – 240L or 140L
From May 2021, the dark green lid on residents' general waste bin will be replaced with a red lid. Residents who would prefer a smaller 140L general waste bin can register online for a replacement to be delivered in July or August 2021.
Garden organics (GO) bin – 240L
From June 2021, properties 400m2 or larger will automatically receive a 240L GO bin with a lime-green lid. Residents with smaller properties can register online for a GO bin.
More articles in the news archive.