Home
Council gives green light to upgrade Wonambi Park
Published Wednesday, 21st April 2021
The City of Wanneroo Council has endorsed the proposed concept plan and community engagement outcomes for the upgrade of Wonambi Park, Wanneroo.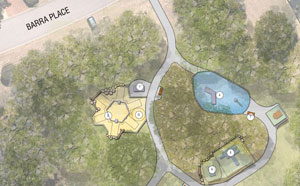 Wanneroo Council last night agreed to a concept plan for upgrades to Wonambi Park after receiving positive community response in favour of Option Two.
The upgrades will feature equipment and play spaces suitable for children of all ages, including a cubby house with slides, balancing bridge, tunnel, sand play and monkey bars.
Mayor Tracey Roberts said upgrading the City's parks and open spaces made neighbourhoods more appealing and benefitted residents, especially young families.
"Providing opportunities for our residents to foster and maintain an active and healthy lifestyle is a key focus for the City," Mayor Roberts said.
"Revitalising Wonambi Park, and our other parks and open spaces across the City, is an important contributor to promoting community spirit and building good physical and emotional health.
"The upgrades to the existing playground will give families and individuals access to shared picnic areas, new bench seating and an outdoor space that is inviting and inclusive."
The development of the park is a single stage construction as part of the 2021/22 budget and funded through the State Government's Local Roads and Community Infrastructure Program.
Construction is set to begin on the upgrades in October 2021.

More articles in the news archive.