Local Government Elections 2021 - candidate profiles
To view the profiles of candidates for the upcoming Local Government Election, please visit the Candidate Profiles webpage
Home
City set to break ground on new cycling facility
Published Wednesday, 21st July 2021
The City is one step closer to breaking ground on a state-of-the-art cycling facility at Splendid Park in Yanchep, after Wanneroo Council endorsed the detailed design for the track.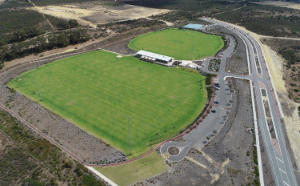 The highly-anticipated Splendid Park Cycling Facility will feature a full criterium-width track that winds its way around the park's existing ovals and sport court facilities.
City of Wanneroo Mayor Tracey Roberts said she was excited to see the project progressing, given the overwhelming public support for the project during the early stages of consultation.
"When we first brought the concept for the new track to the community, we quickly saw how important the project was to our residents, with over 97% of respondents in support of the development," Mayor Roberts said.
"We have continued to work closely with community and cycling representatives throughout the project, including running a series of dedicated working group meetings throughout 2020/21 to inform the design concept and ensure the facility will suit the needs of a wide range of users.
"The cycling track itself has been designed with criterium specifications in mind and will allow all levels of cycling, from beginners to elite riders, to enjoy the track.
"I would like to acknowledge the hard work of our dedicated community working groups, and the State Government, who have committed $400,000 to help the City bring this project to life.
"Splendid Park has always been a hub of activity and is clearly much-loved by local residents, sporting groups and the wider community. I look forward to breaking ground on the site and being able to provide the community with a fantastic, multi-use facility in the not-too-distant future."
The City will continue to explore funding options for the balance of the project. Construction on the facility will begin in late 2021 and is expected to be completed in late 2022.
The video above is a 3D animated fly-through of the Splendid Park cycling facility.
More articles in the news archive.