Local Government Elections 2021 - candidate profiles
To view the profiles of candidates for the upcoming Local Government Election, please visit the Candidate Profiles webpage
Home
City launches Community Directory
Published Thursday, 12th August 2021
It's easier than ever to connect with local services and community groups thanks to the City's new Community Directory.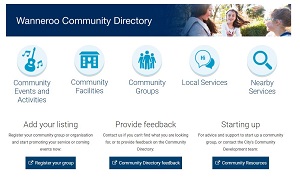 The free online resource helps you find out what's happening across the City, and the services available.
Expand your horizons, find out about events, discover new interests and hobbies, and locate local experts with registered groups, clubs and professionals.
From exercise groups to football clubs, parks to sports facilities, GPs to gyms, the Community Directory has something for everyone, with hundreds of community events and activities, facilities, groups, local services and nearby services already listed and more listings being added every day.
The easy to navigate directory allows you to browse categories and recommendations, search by keyword and create your own list of favourites.
Get your diary ready and start browsing upcoming events, programs and services near you today.
Community groups and local businesses can register online now to provide a listing and promote activities and services for free.
Find out more about this great new feature at wanneroo.wa.gov.au/communitydirectory.
More articles in the news archive.