Local Government Elections 2021 - candidate profiles
To view the profiles of candidates for the upcoming Local Government Election, please visit the Candidate Profiles webpage
Home
Translation toolkit teaches the importance of responsible waste disposal
Published Thursday, 12th August 2021
A first-of-its-kind educational toolkit is instilling the importance of responsible waste disposal on the local culturally and linguistically diverse (CALD) community.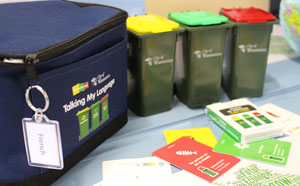 Developed by the City of Wanneroo in partnership with Waste Authority WA, the 'WasteSorted – Talking My Language' toolkit is helping educate the multicultural community on recent changes to the City's kerbside waste collection service.
Using colourful flashcards, iconography and annotations, the toolkit teaches residents about the importance of recycling, correctly sorting household waste and aids in learning common English words and phrases.
Through a series of games, puzzles and quizzes, participants are challenged to correctly identify household items and their English translation, before sorting them into one of three mini waste, recycling and garden organics bins.
Wanneroo Mayor Tracey Roberts said the City's Waste Education team would continue to work closely with CALD community leaders in the coming months through capacity building workshops that empower them to share recycling advice with their community.
"Through this initiative, the City is making information accessible for residents for whom English is a second language," she said.
The City is also making the Talking My Language toolkit available to local schools, including Kingsway Christian College in Madeley.
Students in Arlette Pedretti's year nine French class (pictured) have been using the toolkit during lessons, helping them develop their understanding of sustainability and recycling and learn a foreign language at the same time.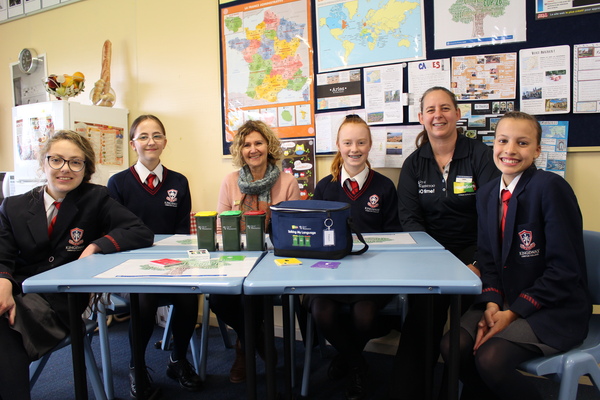 Arlette Pedretti and her year nine French class
Year nine student, Bianca (14), said pairing items with their corresponding colour was good for recall and made it easy to remember how to sort waste correctly.
"The cards have helped me correct some misconceptions about how to dispose of items like aerosol cans or disposable coffee cups," Bianca said.
"Anything we can do to put less waste into the environment is a really positive start."
Fellow student, Tania (14), said the interactive cards made classes more visually engaging and fun.
"Playing the game is fun and it's different from listening to the teacher," she said.
Kingsway Christian College Dean of Primary, Michael Brown, said the school was excited to be piloting the program.
"Our students are really interested and keen to see us make a change, both as a school and as a community. They've got the knowledge and the awareness, but not the skills to know how," he said.
"It is important we educate children so they can continue to make a positive change in the future. It's about creating a culture of behaviour change, especially from a young age."
"The great thing about this kit is that it's relevant to us in the City of Wanneroo and you can turn it into a game that makes the message interesting to learn and arguably, promotes higher retention."
Residents and community groups interested in hiring a toolkit for free can visit their local City of Wanneroo library or call 9405 5000. Translated documents in a digital format can also be downloaded by visiting wanneroo.wa.gov.au/wasteandrecycling.
Toolkits are available in 10 languages: Arabic, Amharic, Burmese, Simplified Chinese, French, Hindi, Indonesian, Macedonian, Tagalog and Vietnamese.
The toolkit will be officially launched during the City of Wannerooo's upcoming Community Waste Education Expo on Friday 27 August.
The expo will be held at the Wanneroo Library and Cultural Centre and run from 3.30pm to 6pm.
For more information on the expo, click here.
The WasteSorted – Talking My Language project is supported by the Government of Western Australia and administered by the Waste Authority of Western Australia.
More articles in the news archive.