Home
Halesworth Park is kicking goals
Published Friday, 10th September 2021
A highly anticipated sporting precinct in the City of Wanneroo's north opened to the public this week.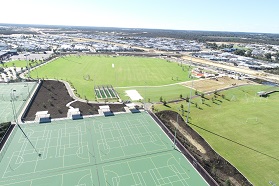 Designed in consultation with local sporting groups in the City's north, the state-of-the-art Halesworth Park complex, on the border of Butler and Alkimos in the Trinity Estate, features two multi-sport ovals, 16 multi-use hardcourts, cricket nets, a dual-use path, children's play area and picnic facilities.
The $20.7 million facility will serve a range of sporting clubs in the northern corridor, as well as John Butler Primary College and Alkimos College.
The next stage of the Halesworth Park project is the construction of two sports amenities buildings. Works are scheduled to start later this year and anticipated to be completed in mid-2022.
The buildings will include multi-purpose rooms, change rooms, first aid rooms, toilets, storage, kitchens and a kiosk.
Drink fountains, taps and temporary toilets are being installed in the meantime, and are expected to be available for use in October.
The City of Wanneroo committed $11.5 million to the Halesworth Park project and received funding of $5 million from the Federal Government, $2 million from the State Government, $1.2 million from the LWP Property Group and $980,000 from the WA Department of Education.
Location
Halesworth Park is located on Halesworth Parade in Butler.
More articles in the news archive.