2021 Local Government Election Results
The Western Australian Electoral Commission (WAEC) has announced the results of the 2021 Local Government Election for the City of Wanneroo. View the results
Home
Ignition scholarships spark start-up success
Published Wednesday, 6th October 2021
The City of Wanneroo has awarded two local entrepreneurs with scholarships to the renowned Curtin Ignition program.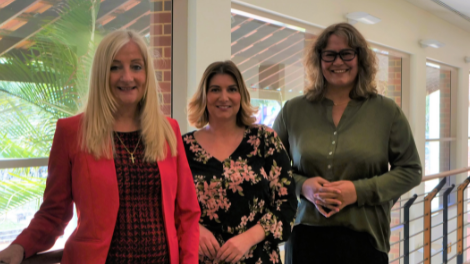 The six-day intensive training program helps prepare aspiring entrepreneurs for the commercial environment through expert clinics, mentor sessions and practical teaching sessions.
For the past six years, the City has collaborated with Curtin Ignition to offer two scholarships each year to local innovators and start-ups. The two 2021 scholarships were awarded to Yanchep resident Katherine Ranga and Clarkson resident Nicola Cuthbert.
Wanneroo Mayor Tracey Roberts said Curtin Ignition gave people the tools, contacts and confidence to transform their ideas into successful ventures.
"Small businesses form the backbone of our community, accounting for nearly 98 per cent of all businesses in the City of Wanneroo," she said.
"The creation of local jobs to support the City's growth is a key focus of our economic development strategy.
"We are committed to supporting innovative and commercial opportunities, and through this scholarship we are supporting bright businesspeople to take their 'lightbulb moment' and turn it into something tangible and successful."
For more information on future opportunities, such as scholarships and grants offered by the City of Wanneroo, head to wanneroo.wa.gov.au/business.
Katherine Ranga, Yanchep
Katherine will be taking the tips and tools she gained through the Curtin Ignition program and applying them to the healthcare sector. Her medical aid concept is designed with function at the forefront and has applications that range from first aid and aged care to intensive care and rehabilitation settings.
"The most valuable asset the course offered was the networking and mentorship from people who genuinely wanted to see you thrive and succeed," Ms Ranga said.
"You can't do everything on your own. Through the Ignition course, I have learnt that you can go further for longer with a good support network. The scholarship meant I was able to freely give my time, without having to sacrifice valuable funds needed for my start-up.
"The most exciting part of the course was being able to share it with like-minded people with the same enthusiasm and passion as me."
For more information, Katherine can be contacted on katherineranga@gmail.com.
Nicola Cuthbert, Clarkson
A nurse with over 24 years' experience and clinical knowledge in aged care, Nicola Cuthbert is pioneering 'Still Me' – a service that allows carers to create a more meaningful, engaging experience for the resident or patient in their care.
"Receiving the scholarship from the City of Wanneroo has been life changing for me," Ms Cuthbert said.
"As a single parent, the Ignition course was only ever a dream to be part of, but now I've gained knowledge and made contacts that would have taken me many years to develop.
"Ignition helped broaden my understanding of starting a business by having industry leaders present on subjects such as marketing, finance, law, intellectual property, branding, business modelling, company structures, networking and creating winning pitches."
For more information on Still Me, visit www.stillme.com.au.
More articles in the news archive.